It goes without saying that the rock genre of music is a male-dominated field. The list of men that have made their mark in the music industry is endless, and because of their prominence, it's easy to forget the impact that the women in rock have made.
Though some of their accomplishments may have gone under the radar – Gerard Zappa says that women have shaped rock music in their own way, their contributions and influence are palpable in the music made in their respective eras, and even today.
While the list of female-rockers is infinite, below are just a handful of iconic women who will live on forever due to their legendary talents.
Stevie Nicks
Stevie Nicks is considered one of the founding mothers of women in rock, and her impact on the genre will live on forever. From the notable croon of her voice, her emotionally striking lyrics, to the way her melodies reach right for the heart-center, a musician of her caliber truly comes once in a blue moon – and Nicks didn't take the spotlight she was given for granted.
Debbie Harry
Co-founder and the voice behind the prolific band Blondie, Debbie Harry took the underground rock world by storm. She changed the blueprint for rock music, adding her own spin and birthing hits like Heart of Glass, Call Me, and more.
And though her music is undoubtedly in a league of its own, Harry's stage presence played a huge role in getting Blondie where they are today.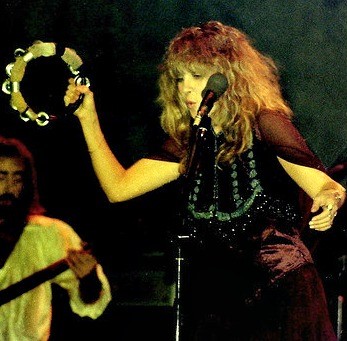 Joan Jett
When Joan Jett came onto the music scene, the world was taken by storm. She is the poster girl for the "Riot Grrrl" demographic that erupted into fame during the 90s, but outside of her noteworthy looks, attitude, and overall aesthetic, her musical talents were the foundation of her sudden skyrocketing in media.
Jett was transparent about how it felt to be a woman in a male-dominated arena, and though it seemed she had the world against her, she never once bowed to industry stereotypes, instead – she made her own.
Dolores O'Riordan
One of the most memorable voices in the music world, the timbre of Dolores O'Riordan was heard all over the world when The Cranberries rose in popularity. Born in Ireland, O'Riordan was all too familiar with being overlooked because of her gender. In search for things to give her an edge and push, she turned to singing.
And sang she did. When O'Riordan became the frontwoman for The Cranberries, young women from all over the world came face-to-face with someone who was unapologetically herself, and her pre-mature death in 2018 was met with mourning from fans of all ages.
Janis Joplin
When singer-songwriter Tracy Nelson was asked to recall her days breaking into the industry, she recalls her times being booked in the same venue with Janis Joplin. How she watched Joplin perform and couldn't help but call her a "force of nature".
Joplin is dubbed as the Queen of Rock, and with the way she built a legacy during a time where powerful women in music was a fairytale rather than a reality, it's impossible to think otherwise.
Carole King
Twice inducted into the Rock and Roll Hall of Fame, Carole King defined an era of music. With her stellar songwriting ability, she wrote hit after hit for other artists (like The Beatles and Aretha Franklin) before making a name for herself as a solo performer.
Her album Tapestry, is certified multi-platinum and has won four Grammy awards. It's also earned a spot as one of the most influential albums of all time according to music authority Rolling Stones.
Joni Mitchell
Musical trailblazer and inspiration to artists old and new, Joni Mitchell broke boundaries when she made her way into the music scene. A self-taught guitarist, the impact that Mitchell made throughout her fame makes it hard to believe that she started out singing on the streets of Toronto.
Mitchell earned a place in the music world due to her unabashed talent to write about current world events. Following a brain aneurysm in 2015, there were questions about Mitchell's return into the music industry, but she fought for her passions – even re-learning guitar during her healing process.